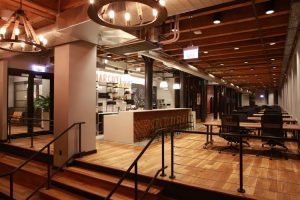 WeWork, Fulton Market, Chicago: One of more than 60 locations that comprise the WeWork global network of coworking spaces. Today is lazy day, so I'm just ripping this content straight up off the WeWork official website:
"The city's former meatpacking district is home to this Chicago office space, which occupies seven floors of what was once an industrial building. In the loft-style space, exposed brick and wood beams add to the historic feel. This coworking space is warm and inviting, with a friendly vibe that attracts a wide range of companies from startups to multinational corporations. Many members are in PR, media, law, or real estate, as well as the nonprofit arena."
Camden Adrian is one of the pros running the day-to-day here, and she was kind enough to take 20 minutes out of her day to fill me in on various information about this astonishing outfit – and worldwide network. These guys have thought of everything – they even have their own app where you can do everything from renewing your membership and chat with fellow coworkers to paying for your snacks & drinks offered at the "market".
In short, this place friggin' rocks. Perhaps a bit on the spendy side you might think, yet I beg to differ – you get so much for your money here it's ridiculous. Head over to their website to delve deeper into what they offer and how their memberships work. Thanks for having me!
PROS:
Worldwide network – membership grants access to them all
WeWork app lets you stay in touch, pay bills, buy snacks etc.
Daily event schedule
PRIME locations
Big, modern, gorgeous
CONS:
On the more expensive side, but you definitely get value for your money
ADDRESS:
220 N. Green St.
Chicago IL 60607
USA