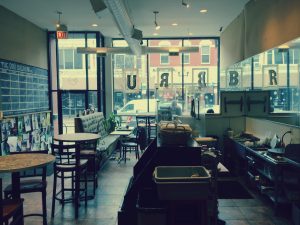 The coworking joint Brü in Chicago is actually more of a café than your traditional coworking space. They do feature a coworking area in the back, but when I visited it was kind of messy and unkempt; didn't come through as a very ambitious enterprise.
The café part of the space though, was really decent. Good menu items, wicked free as well as coffee for purchase (coworkers enjoy 15% off). The space was quite empty up until lunch but did fill up quite nicely in the afternoon – mostly single individuals working their laptops but also a few smaller groups debating projects… I also noticed a study group working on a project.
Comfortable background music at a reasonable volume, various chairs, tables and couches to suit different individuals. A pretty nice alternative to the bigger, more "focused" coworking spaces.
PROS:
Location is awesome, smack in the middle of Bucktown, around the corner from the Damen Blue Line stop
Nice open space
Cheap
Free coffee "bottomless mug" as they call it 🙂
Really easy going & friendly staff
CONS:
Coworking area in back felt more like a messy, abandoned meeting room than a creative coworking space
WiFi kind of on the slow side
Address:
1562 N Milwaukee Ave
Chicago, IL
60622, USA